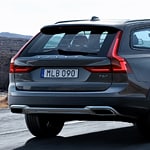 The Volvo V90 Cross Country is a vehicle that can go just about anywhere. It was designed to be rugged and durable while also having an upscale style and so much sophistication. This combination of features, along with modern amenities and a spacious cabin, have helped the V90 Cross Country gain popularity at Bedard Bros. Volvo Cars.
For 2022, Volvo made a few changes to this model, and one of the major upgrades is found underneath the hood. The 2022 version runs on a new turbocharged and supercharged engine that benefits from having a mild hybrid system. This capable 2.0-liter engine can generate 295 horsepower, which is a pretty impressive feat. It also comes with 310 pound-feet of torque.
This Volvo wagon has been enhanced with standard all-wheel drive, and it has a ground clearance of 8.3 inches. It's ready to venture off the beaten path if you're looking to have a memorable adventure outside of Cheshire.