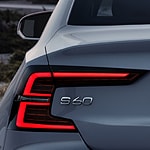 At Bedard Bros. Volvo Cars, we enjoy helping our customers find vehicles that empower them. The Volvo S60 is a mild hybrid sedan that is a Cheshire area favorite. The following performance features will help you make the most of your power.
As a mild hybrid, the S60 contains a traditional combustion engine, 48V battery, and an integrated generator for starting. This system provides variety and minimizes your carbon footprint while capturing any energy remaining after you brake. Since your energy is repurposed, this innovative vehicle doesn't need to be recharged.
Whether you're in the middle of Cheshire rush hour or a cross-country trek, constantly shifting attention between the road and the display can be tiring. Fortunately, the S60 is equipped with a Head-up display so you can keep your eyes on the road while monitoring your speed, navigation, and calls. Witness the S60's power during a test drive.