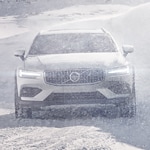 The Volvo V60 Cross Country mild hybrid has many appealing capabilities, including saving you money at the pump. When running on the engine, the V60 Cross Country averages 23city/30highway mpg. When the electric motor and engine work together, your EPA estimated mileage is the equivalent of 26mpg.
Features Regenerative Braking
Applying the V60 Cross Country brakes replenishes the electric motor batteries. The energy from stopping or slowing is transferred to a storage battery, so you spend less at the charging and gas station.
SUV Like Capabilities
Although the V60 Cross Country models on the Bedard Bros. Volvo Cars lot in Cheshire are wagons, they act like SUVs. The V60 Cross Country boasts 60.5 Cu. Ft. of storage. If you need more cargo room, the V60 Cross Country has 2,000 lbs. towing capacity. All-Wheel Drive, extra wide tires, and off-road mode will take you almost anywhere. Hill Descent helps the V60 Cross Country descend inclines safely.