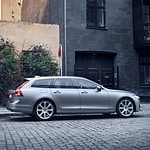 Volvo has a reputation for making some of the safest cars on the road today, and the automaker continues to strike the right notes on the Volvo V90. In addition to being one of the most popular luxury wagons on the market today, and Volvo V90 is packed with safety features that focus on accident prevention and personal safety.
Volvo's distance alert feature offers you peace of mind when you are on the road. You will receive audio warnings whenever you get too close to an object. This gives you enough time to correct you driving before an accident occurs. Its standard LED headlights make it easy for on-coming traffic to see you no matter the conditions. The fog lights have a cornering feature to provide optimum visibility.
Come to Bedard Bros. Volvo Cars today to take a test ride today and experience its impressive safety features.