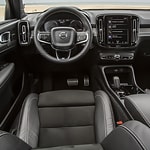 As a compact performance SUV that continues to grow in popularity, the Volvo XC40 R-Design is ideal for anyone that enjoys an incredibly smooth ride. The optimal appearance of this SUV is an added bonus.
While the Dual-Integrated Chrome Finish Tailpipes in the Volvo XC40 R-Design clearly have the primary function of boosting engine airflow, it's hard to ignore how much they enhance the appearance of this vehicle. Dual tailpipes have an incredibly sporty design and attractive exterior styling that's undeniable.
The Dual-Zone Electronic Climate System in the Volvo XC40 R-Design enables you to have different temperatures in the vehicle. That means the passenger and the driver can both enjoy temperatures that are drastically different.