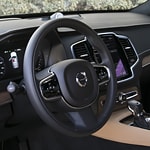 If you are in the market for an SUV, your search should take you to the Volvo XC90. There is a lot that has gone into the design of this special vehicle, so you will easily understand why it is so popular as a luxury SUV. It seems as if everything has been considered when putting this one together.
The drive mode settings are a way of providing drivers with more control over their experience behind the wheel. Having four different modes to choose from allows the driving experience to be further customized. You will notice the difference in handling from mode to mode.
The four-corner air suspension is another feature that drivers and passengers alike will love. This enhances the comfort factor when you are driving. The suspension will automatically adjust when the sensors detect a switch in speed and terrain. Give it a try as you test drive the Volvo XC90 today at Bedard Bros. Volvo Cars.