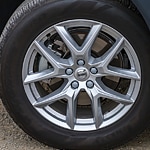 If you are looking for a mid-size sport-utility vehicle that is versatile enough for daily driving in Cheshire, MA, or taking on rugged terrain, then the Volvo XC60 is for you. This vehicle has the performance you want and also has the look that will ensure you are driving in style. We here at Bedard Bros. Volvo Cars would like to highlight some of the Volvo XC60's top standard exterior features.
One of the best exterior features of the Volvo XC60 is its lighting system. The vehicle has adaptive LED headlights that swivel to help illuminate the road when you are turning. It also offers auto-dimming side mirrors to help you better see at night.
Another top exterior feature of the vehicle is its hands-free tailgate. This is a great convenience whether you are hauling cargo or just trying to unload your groceries after a trip to the store.