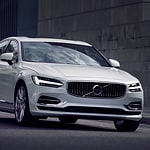 If you're on the market for a sedan that's striking in appearance, then there are many options that are available. The Volvo S90 is a sure pick thanks to its Scandinavian design. Volvo's iconic "Thor-Hammer" LEDs are present at the front-end, and this car has top-of-the-line aerodynamics. Buyers can opt for a four-cylinder engine that's equipped with forced induction, and there's a monstrous 400-horsepower engine that's hybrid.
You and your fellow friends will be totally protected while on the highway. First things first, the Volvo S90's camera system is highly advanced and will display a 360-degree view of the vehicle. Sharing and receiving road conditions is possible via cloud-based communications. Rear Cross-Traffic Alert will detect movement at the rear while backing up whether it's from vehicles or pedestrians. Auto consumers can also expect Lane Keeping Assist, Adaptive Cruise Control as well as Automotive Emergency Braking.
Speak with one of our sales associates here at Bedard Bros. Volvo Cars in Cheshire, MA about the Volvo S90 today!